Honestly I've never looked forward so much to a new football season before.
Finally settling down with a group of footie fans and frequenting mamaks once again, I bask in the nightlife together with my fellow fanatics and enjoy our football in tandem!
As most of you should have known, the blogger himself is a prudent Man United fan. (Planning to buy the new 3rd kit for the new season, got myself the home - albeit a fake replica - kit at Thailand a few months back) We won the league quite unexpectedly last season (it was running to Chelsea in the early stages), reminding me that the league is not won in the first few matches of the season!
Third kit
Predictions for this season?
Us to remain champions again. Hopefully.
Van der Sar will not be easily replaced for sure and there'll be worried moments for our new number 1. I'm always skeptical whenever a keeper gets replaced after a title-winning season, such as Barthez being replaced by Ricardo, Carroll, Howard, Kuzszcak and finally, van der Sar...it looks like we needed to try several times before we get the right one. Hopefully we get the right one on the first time though, for this season. I've watched de Gea in some Atletico matches and the U-21 WOrld Cup, and I must admit he's quick and agile, with a large physical presence as well. And he saves many penalties as well. We pray that he gives us the edge in matches where we least expect teams to sit back and defend, while managing to handle the pressure.
Lots more to expect from this United side too, with the vision (not tackling) of Paul Scholes surely to be missed, we will require some CMs to beef up and take their game to the next level. I for one am not supporting the idea of signing Wesley Sneijder. To me he's just overrated and hasn't been playing exceptionally well since the departure of Jose Mourinho and the World Cup.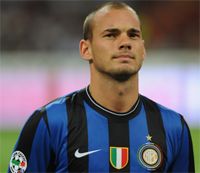 I'd say we develop our youngsters and give them more playing time. Anderson has displayed some potential during last season, being able to thread passes and get into good positions. Cleverley played well on loan at Wigan, getting goals as well. But the playmaker role may not be used too extensively during the course of our campaign, which means we may well be playing with two defensive midfielders (Carrick - Fletcher/Gibson) most of the time. The wings will have more rotation with the arrival of Ashley Young. Either the industrious Valencia or the brilliant-but-frustrating-at-times Nani will have to be sacrificed to accommodate our new number 18. Young can play as a second striker as well. The arrival of Young also lessens Giggs' burdens as a left winger, and he will undoubtedly be used less in the coming season. Park on the other hand, will be transformed into a CM when the need arises, but he will of course be an invaluable asset to us, being a big-game player. He was one of the better players in the 3-1 defeat to Barca, stifling the runs of Lionel Messi. Obertan will need to take his game to the next level, after being labelled as 'non-Man Utd players' together with Bebe last season. Gibson needs more playing time, and probably will seek pastures anew, with his long range shooting not as prominent as before.
Our forward line will almost have Wayne Rooney as the central figure. Either Berba or Hernandez will be playing together with him. Shocked as Owen did not leave yet. With Welbeck and Macheda back, our forwards will have a lot to prove. Mame Biram Diouf is another one who will most probably not be playing much next season, but let's hope he's on the level of the two other loanees last season.
The defence will once again hinge on the Rio-Vida wall. Smalling has proved to be an able deputy for both, but let's keep our fingers crossed he won't be another Jonny Evans, who did well the season before last, but was horrid in our title-winning one. Phil Jones will be a replacement for versatile man John O'Shea, while the da Silva twins will both be given more time on the right flank. Patrice Evra will also be our cornerstone in left back unless he suffers from a huge loss of form. Brown will not be missed too much, hopefully, and we will have Oliver Gill to step up the plate in his absence.
It'll be good seeing us form an attacking line up for the new season, switching emphasis from 4-4-1-1 to 4-4-2 and to 4-3-3 if the need arises.
GK: David de Gea
DEF: Fabio da Silva - Nemanja Vidic - Rio Ferdinand - Patrice Evra
MID: Nani - Michael Carrick - Darren Fletcher - Ashley Young
FWD: Rooney - Hernandez
Subs: Lindegaard, Rafael da Silva, Phil Jones, Anderson, Park Ji-Sung, Ryan Giggs, Danny Welbeck
Our main title challengers will undoubtedly be moneybags Chelsea and Man City. Arsenal will probably not be a serious contender without Fabregas or Nasri, who are expected to leave, unless they beef up their squad. I pick Liverpool as our closest challengers. They are not involved in Europe this season, and have a large squad to choose from. If they fail to win a trophy this season it will be a little surprising. Manchester City will no doubt be serious contenders, and if their new Argentine signing comes good (I do not need to remind you of the impact the last major Atletico Madrid signing had on the BPL, right? He's the Chelsea number 9 anyway), together with compatriot Tevez they will have a strikeforce to be reckoned with. You just have that feeling that Chelsea, not being the big spenders yet, will not relish their chances in the BPL. They have consistency, and have a young coach at helm, it'll take time, but I don't see them being champions, with their squad aging. If old guards Lamps, Terry, Drogs or Anelka get injured, they'll be in big trouble. City can afford to have expensive strikers on the bench, and they have a deeper squad with able players. Tottenham can be challengers only if they keep consistent, especially with the likes of Bale, van der Vaart and Modric(isn't he going to Chelsea anyway?).
All in all, we should heed Rooney's advice and start with a bang, starting with Man City in the Community Shield tomorrow. Glory Glory Man United!